Adewale Awoyemi is a Nigerian ornithologist who coordinates the Ibadan Bird Club and manages the city's International Institute of Tropical Agriculture Forest Center. Here he writes about his passion for conservation and how he earned the nickname 'father of birds'.
————–
Ibadan is one of sub-Saharan Africa's largest cities by surface area. Anthropogenic activities in the city, notably urbanisation and farming, are negatively affecting bird diversity. However, awareness campaigns, especially by the Ibadan Bird Club which I coordinate, are changing people's perception. The Ibadan Bird Club has 500 registered members, and around 40 people turn up at each of our monthly meetings. Our meetings are open to all—young and old, experts and novices. In my estimation, it is unarguably the best bird club in Nigeria and arguably the best in West Africa.
Most Nigerians I have met understand the importance of biodiversity. Some will tell you stories of streams that were protected by sacred groves, while others will tell you how their grandparents sustainably harvested non-timber forest products. I think the main challenges to biodiversity conservation in Nigeria are, firstly, the inability to practically implement local know-how of biodiversity conservation in the face of economic hardship, and, secondly, greed on the part of some rich people. For biodiversity conservation to be sustainable in Nigeria, all stakeholders must be involved and their needs—especially those that will ensure healthy livelihoods—must be met.
My first birding outing was as a postgraduate student in September 2014 in the Amurum Forest Reserve. The reserve is near Jos, north-central Nigeria, where the A.P. Leventis Ornithological Research Institute is located. The institute awarded me a scholarship for a masters in conservation biology, and birding was part of the coursework. It was a lovely first-hand experience for me, and my interest grew from there.
The most amazing birding experience I've had to date took place at 11 a.m. on 14 April 2017 in Agbado Ekiti, in Ekiti State about 200 km west of Ibadan. I sighted the endangered Ibadan malimbe (Malimbus ibadanensis) out of its natural range. These striking red and black birds were only discovered in 1951 and are endemic to south-west Nigeria. We monitored the birds for about two months and published the results in the journal Malimbus [1].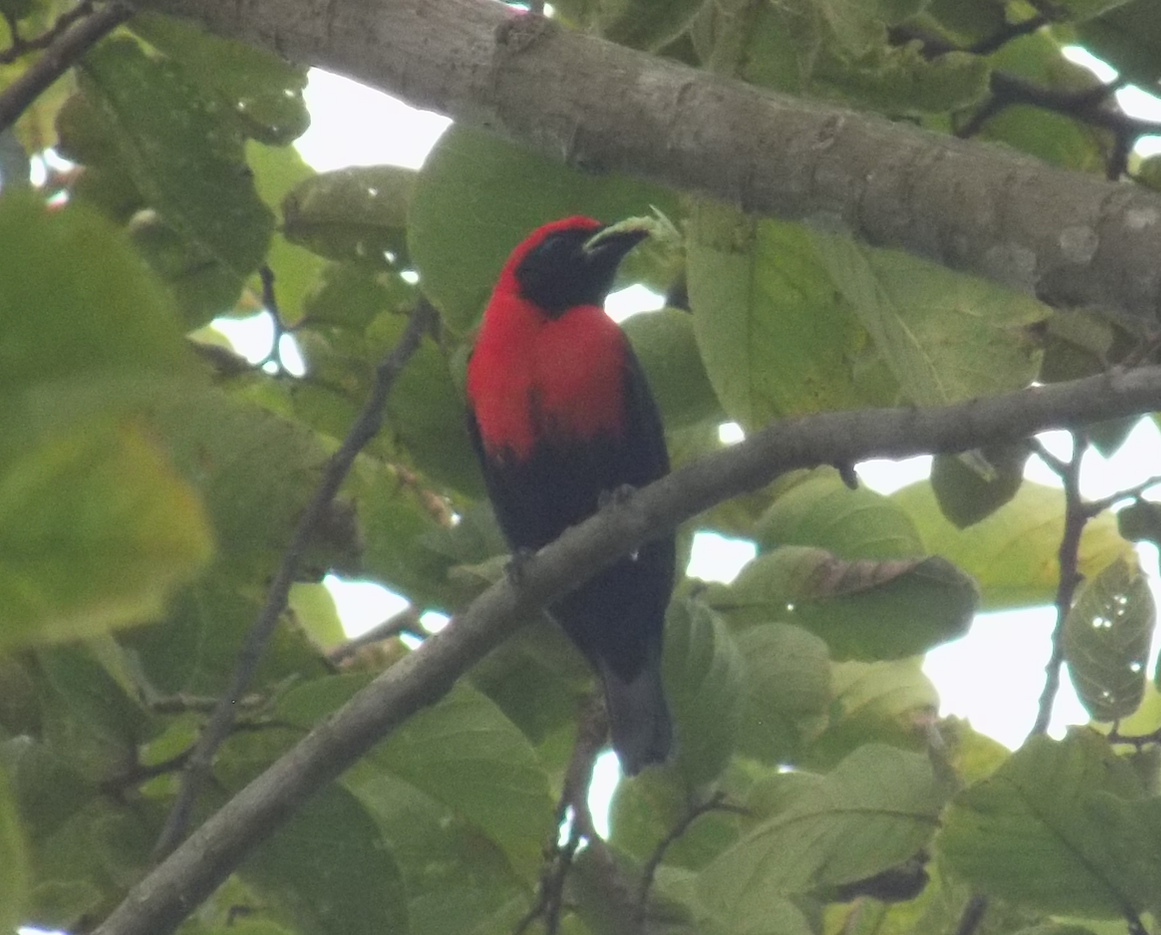 All birders have birds they dream about spotting in real life. I dream about seeing the Secretarybird (Sagittarius serpentarius), an elegant raptor and the first bird species mentioned to me by my lecturer during my undergraduate course at Ekiti State University. It is found throughout Southern and East Africa, and to a lesser extent in the drier regions of West Africa. Other dream sightings include the Abyssinian ground hornbill (Bucorvus abyssinicus) that stalks the savannah in search of prey, and the Red-headed picathartes (Picathartes oreas), which is one of Africa's most elusive rainforest bird species. It builds cup-shaped mud nests on overhangs, in crevices or caves.
Another bird I'd love to see—although I'd most likely see more than one!—is the Sociable weaver (Philetairus socius) found in Southern Africa. Sociable weavers construct permanent nests on trees and other tall objects. These nests are truly spectacular and the largest built by any bird. They are large enough to accommodate over a hundred pairs of birds, housing several generations at a time.
When I talk about birds with my non-birding Nigerian friends I get many different responses. Those of the Yoruba ethnic group call me "Baba Eye" which means father of birds or "Baba Eleye" meaning someone who sells or possesses birds. They will then ask how they can buy caged birds for ornamental and acoustic purposes. Of course, that's where the opportunity presents itself for me to preach bird conservation, and I will invite them to join the Ibadan Bird Club where they can observe birds freely in the wild.
Our bird conservation challenges in Nigeria are significant, but I have learnt that small actions can yield big results. Just 35 people attended the re-launch of the Ibadan Bird Club in February 2016. That number has increased to over 500 in just three years. Sociologically, that's an impact. Scientifically, we have also made significant impacts through citizen science. These efforts were outlined in an article about the club published in a peer-reviewed journal earlier this year [2].
My passion for birds extends to my own life. I am now married to an ornithologist, so I am a complete Birdman! I suspect that our kids will have flair for birds too. As they say, birds of a feather will flock together.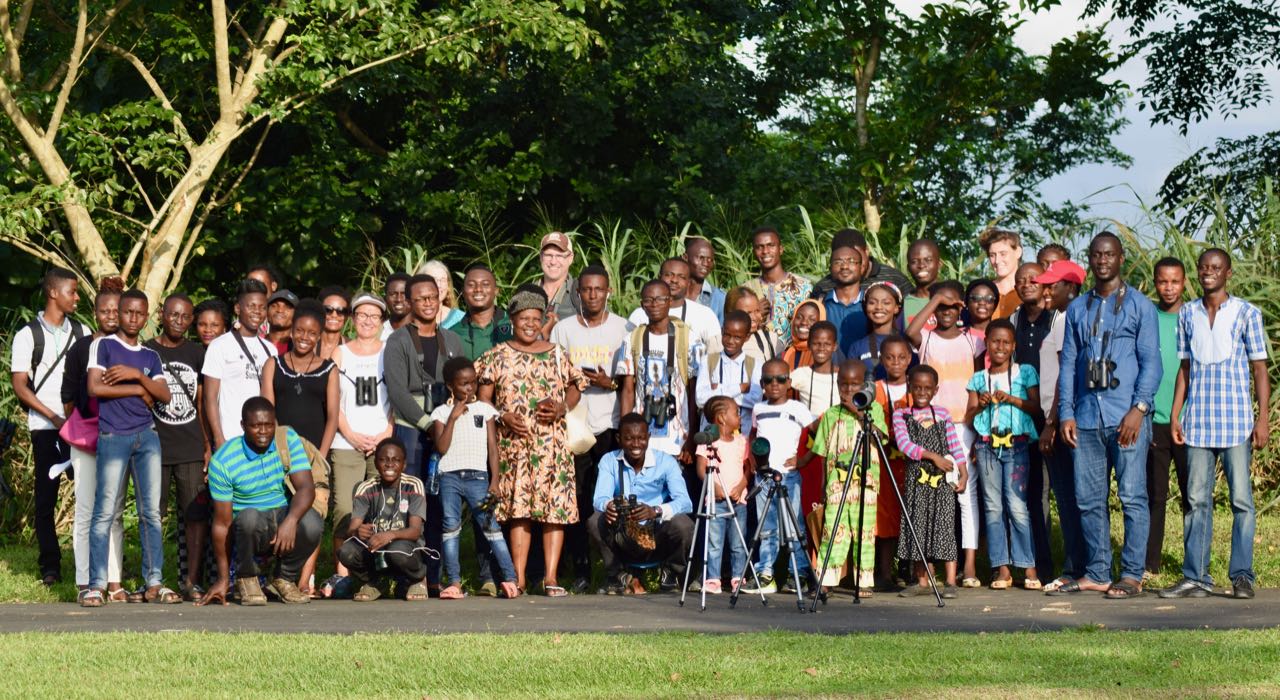 Ibadan Bird Club at a glance
The Ibadan Bird Club was established in March 2014 by the Nigerian Conservation Foundation in partnership with the Department of Wildlife and Ecotourism Management, the University of Ibadan, and the Forest Project at the International Institute of Tropical Agriculture. The aim was to build local capacity and enhance the conservation of birds in the Ibadan area. In February 2016, the club was relaunched so that it could be coordinated by the IITA Forest Center as an activity of the A. G. Leventis-funded Ornithological Monitoring Project. It meets at 4 p.m. on the last Saturday of every month. Membership is free and open to all.
Facebook group: https://www.facebook.com/groups/653034744862182/
References
Adewale, A.G., Ademola, A., Adeyanju, A.T., Orimaye, O.J., Olubodun, O.P. and Agbo-Adediran, A. 2017. First successful breeding of the Ibadan Malimbe Malimbus ibadanensis. Malimbus 40 (1), 3-9.
AG Awoyemi, D Bown, Bird conservation in Africa: the contributions of the Ibadan Bird Club, 2019, Biodiversity Observations
Top photo credit: Dr David Dekoeyer