'People dumps' that house children displaced by Boko Haram could become breeding grounds for extremism unless the educational provision in them improves drastically, writes David Mba.
Perhaps Nobel-prize winning author Wole Soyinka put it best when he wrote: "One's own self-worth is tied to the worth of the community to which one belongs." It's a useful quote to keep in mind when visiting the poverty-stricken Internally Displaced People camps of northern Nigeria.
In December last year I visited two such camps with colleagues from the Nigerian Young Academy. The visits came about because one of the four sustainable development goals the NYA has decided to focus on is SDG 16: Peace, Justice and Strong Institutions. NYA wants to bring awareness to the education of internally displaced persons in Nigeria.
As our team found on our visit to two such camps, Nigerians displaced by the Boko Haram insurgency live there in appalling conditions, with a lack of food, poor housing, poor health services, poor sanitation facilities and a chronic shortage of education.
Will these ramshackle camps affect the self-worth of a generation of displaced Nigerian children? We think they will. That's why we believe these 'people dumps' are not just bad news for the 1.9 million Nigerians who live inside them. We believe they are bad news for Nigeria as a whole.
Seeing is believing
A forward-thinking country educates all its children. It's the efficient thing to do. But set that aside for a moment. Only last year, in a 'Perpectives on Terrorism' report on Boko Haram, its three authors—Adesoji O. Adelaja, the late Abdullahi Labo, and Eva Penar—noted that a "lack of economic opportunities has been found as a root cause of terrorism".
Already traumatised by displacement, and without even basic education, children in these camps will have very little opportunity to improve their socio-economic condition. That will leave them vulnerable to extremist propaganda; the very thing that displaced them in the first place. Seemingly abandoned by the rest of Nigeria, there is a real danger of these camps actually becoming a source of terrorism.
The argument that extremism is simply being relocated from the north of Nigeria to the various IDP camps across the country gains credence when you visit the camps and witness that they are without money, without education and without hope.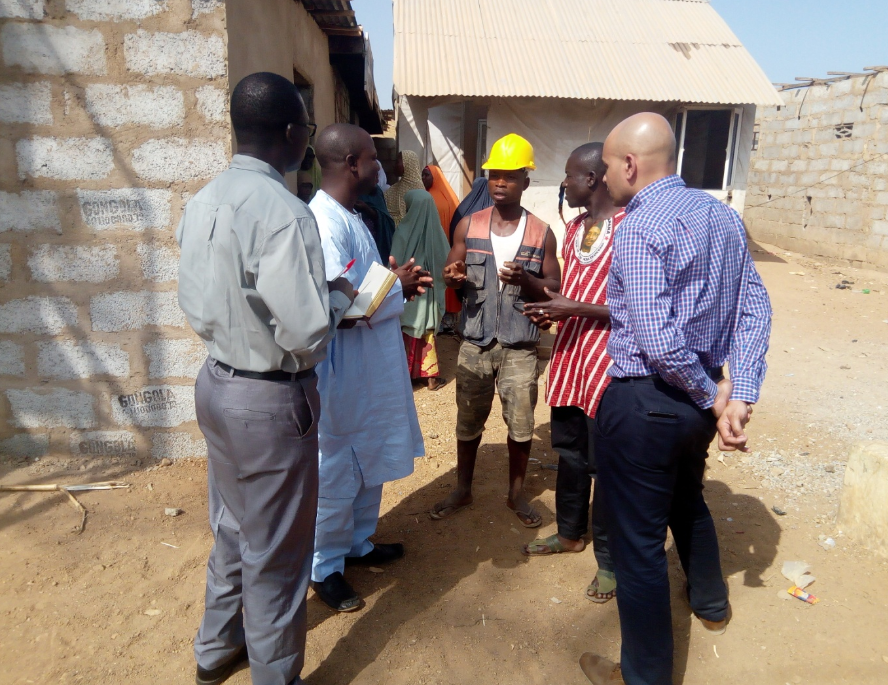 At Karonmajigi camp, which houses around 2,400 people displaced from Borno State, we were told most of the 200 children who live in the camp do not go to school. This is because there are no schools in the camp.
At the New Kuchingoro IDP camp we heard a similar story. This camp houses around 1,600 people, displaced from Borno state. Around 350 are children. This camp has a school, but it is short of both teachers and textbooks. We saw many children who ought to be in school playing around the camp. The closest government school is at least five kilometres away, and while camp children could in theory attend this school the death in 2017 of a pupil crossing the road on the way to the school has discouraged others from making the long trek.
So what can be done?
Unlike refugees, who cross borders, people who have been internally displaced have no protections or formally agreed-upon rules. There are no international resources or funding. The care for them therefore falls to local and national government.
Last year, Nigerian president Muhammadu Buhari announced the Federal Government's intention to adopt a national policy on internal displacement. He said a policy of "realising the Sustainable Development Goals for all, including migrants, refugees and internally-displaced persons" would help regulate the internal displacement crisis and complement the fight against insurgency.
But we saw little evidence in the camps we visited of any commitment by local or national government to take on terrorism by helping the victims with their education. By contrast, our visits have shown the clear abandonment of any attempt to educate children within the IDP camps.
The authorities may argue that more pressing matters take precedence, such as battling the terrorism that caused the initial displacement. I would argue that helping our countrymen and women displaced by Boko Haram is very much part of the battle against terrorism. There is a path to terrorism from poverty and hopelessness that must be blocked by the government.
As an academy of researchers, the NYA is interested in making evidence-based decisions as well as encouraging other researchers to find ways of coming to the aid of those currently displaced from their homes. Creation of knowledge is good, but transmitting that knowledge beyond the university walls to society is even better. So, it is important that we do not ignore the plight of those residing in these camps, but use our knowledge to improve their situation.
It is now imperative that specific intervention programmes are initiated to address the neglect of these most vulnerable of Nigerian children. They must be given hope through education. It is vital for them. It is vital for their families. And if that does not move you, remember this: it may also be vital for future peace in Nigeria.
David Mba is a Nigeria-born mechanical engineering professor based at De Montfort University, UK, where he is also Pro Vice-Chancellor and Dean of Computing and Engineering. Mba visited the IDP camps with Nigerian Young Academy representatives Dr Tope Olomola (NYA President), Dr Abiodun Egbetokun, Dr Matthew Omoruyi and Dr Aminu Mohammed.
References
'Public Opinion on the Root Causes of Terrorism and Objectives of Terrorists: A Boko Haram Case Study' by Adesoji O. Adelaja, Abdullahi Labo (Late) and Eva Penar, Perspectives on Terrorism, Vol 12 Issue 3